RSLOOKUP UPTIME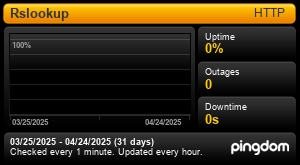 All plans, including trial plans, now have an unlimited lookup quota.
What does this mean?
This means there are no limits on your account and you can search as many times as you want per hour, day, month and year!
(08-19-2016, 02:50 PM)

Imremedy Wrote: [ -> ]Used the first trial code. Will leave a review for this service :)

Edit:
Used 1 search and after it this is what I think:
Very, very easy to read your results. Clearly displayed in a table (much clearer than leakedsource). Its clear, easy to use, provides accurate results from a quite a wide range of databases. Will definately be using this in the future, great service Skylake!
Edit2: Has some very nice clan forums db's in there!!

10/10

Edit3: THE SEARCHES ARE EXTREMELY FAST. SUPER AMAZING SERVICE!
(08-19-2016, 03:23 PM)

Lorenzo Wrote: [ -> ]Searching is very fast.
You can read the results very easily and you can almost unlock every encrypted password due to Skylake his decrypting skills

Currently using his RSLookup for over 2 weeks and I always enjoyed it. Very easily to make money with if you know what you are doing.
I'd recommend this RSLookup for all people that want to start cracking RS Accounts due to the wide range of databases. Currently there are over 100+ RS/RSPS related databases in his lookup.

You got a HUGE vouch from me Skylake.
(08-19-2016, 04:46 PM)

Gustav Wrote: [ -> ]I have been using the lookup from time to time and can admit that it is very useful in some cases.
I can recommend this
(08-19-2016, 05:10 PM)

Lawliet Wrote: [ -> ]You will without a doubt make your money back, got me results I didn't have myself. Big vouch for Skylake!
(08-19-2016, 06:47 PM)

miljad Wrote: [ -> ]Got a two day trial code from skylake and can vouch for this lookup. Has some db's that places such as LS and plookup don't have as well as that it has some really awesome tools such as the bulk search.


+1 from me
(08-19-2016, 09:20 PM)

DdosedOnRunescape Wrote: [ -> ]Trial works great, easy to use for someone like me. Managed to grab a few accounts, highly recommend.
(08-19-2016, 09:33 PM)

harryl Wrote: [ -> ]One of the best sites, definitely recommended :).
(08-19-2016, 10:55 PM)

Chase Wrote: [ -> ]Soa an update, after around 200 checks I can say this is much better than LS for Runescape. I would come here every time over LS. Definitely a wise purchase is you want to check "your info" .
(08-19-2016, 11:08 PM)

Dalcenti Wrote: [ -> ]Works good, got a 1.5b hit with this database.
(08-19-2016, 11:27 PM)

Bongs Wrote: [ -> ]Vouch for this lookup, Have made 2.5k off the ironman database alone in the past week

Glws  
(08-20-2016, 03:01 PM)

thtdiabetic Wrote: [ -> ]Vouch, bought last night, very easy to use, the speed is UNBELIEVABLE and most hashes are cracked, would recommend
(08-20-2016, 10:15 PM)

LambSauce Wrote: [ -> ]Bought the trial, nice tool to double-check your recovery information, made around $70 in a day, good job.
Vouch for this service.
(08-20-2016, 10:44 PM)

Flanvito Bandito Wrote: [ -> ]I was asked by Skylake to create a review for RSLookup.



Ease of use

(9/10)
The website explains how to use each feature easily, the design is very professional and I easily prefer this look over other database lookup tools such as LeakedSource or pLookup. The website has a simple list of all the functions easily seen on the side of the page, you're sure to not get lost while using the tool.



The tool

(8/10)
Although I'm pleased with how well and fast the tool preforms, there is no extra field for potential pins or birthdays which is a big part of why I purchase LS over pLookup. As of the time of writing, the database contains over 4.3M lines, which is purely RS/PS related. There is a list provided with some detail about each database, (ingame or not) and how many lines each one has. Although there is some details, the feature is lacking when the database was compromised which is very vital to predicting early passwords in some hacks.



Functionality

(7/10)
I haven't purchased premium, but just the searching of 1 account works as expected. The website displays usernames, passwords, ips, hashes and salts. One feature I'm not too fond of is the 200 limit searches, although that may just be for the trial accounts. Compared to other websites which either do not limit or have a captcha if you search too much, this seams a bit silly, especially when duplicate entries are counted multiple times. I find myself wasting precious searches with simple typos far too often.

Overall I'd personally give the tool a 7.5 out of 10. If Skylake keeps updating the website based on suggestions I can definitely see this as one of my go-to RS/PS hacking tools. 



Apologies for the shitty format/grammar issues, been a long day.
(08-22-2016, 03:18 PM)

Naru Wrote: [ -> ]Purchased the 1 month plan. I will let you know how it goes in a while. Thanks Skylake.

Edit:

Honestly, it's pretty good. It's very fast and really clean to look at aswell as being a fraction of the price of leakedsource. The hash database is also very good and reliable.

Only downside is that it may be lacking databases. I did quite alot of searches and alot of the time it wouldn't find the person I'm searching for which was rarely the case with leakedsource but I suppose that could just be the fact that RSLookup is dedicated to Runescape related databases.

Overall, I'd recommend it as a decent alternative to leakedsource. It's much more affordable and easier to navigate around. 

Thanks again.
(08-22-2016, 08:37 PM)

Iramo Wrote: [ -> ]Big vouch for this,  huge help for those who'd want to hack RS accounts. Could say it's a must have
(08-22-2016, 09:07 PM)

miljad Wrote: [ -> ]Another vouch for this bought a month and razza is a cool dude
(08-22-2016, 09:35 PM)

imdad Wrote: [ -> ]Big ass vouch for Skylake. I have known this fella for almost a decade now, actually didn't know Skylake was one of my old friends, I just realized after seeing his Skype name.
This guy has had so many succesful services/businesses throughout the years I have known him, everything from very succesful RuneScape Private Servers, to crackers, to his very own brand of tools and to this fantastic tool, RSLookup.

Finding a person with talent in most areas is extremely hard, but Skylake is without a doubt one of the very few I know, who is pretty much talented in every possible way; he is an extremely talented coder (especially Java) and he is miraculously smart.

Going with his products will never fail you, they are of top-notch quality. Often people say quantity > quality, but in Skylake's case with his magnificent RSLookup tool, he has an extreme amount of databases alongside his very well coded tool, you receive both quantity and quality in one, cheap package.

Huge vouch for Razza/Skylake.
(08-23-2016, 11:15 PM)

Snuffie Wrote: [ -> ]Huge vouch for Skylake. I received a trial and got myself 2 decent accounts already. The lookup is easy to use and newbfriendly. I would definitely recommend this to anyone!
(08-25-2016, 12:09 PM)

dundem Wrote: [ -> ]+ vouch, been using it for 2 days, solid and beginnerfriendly.

-Dun
(08-25-2016, 09:59 PM)

Chacho Skuds Wrote: [ -> ]Big vouch for Skylake! 

Purchased this last weekend and made my money back the day after purchase.
(08-25-2016, 10:05 PM)

DontDoNowtK Wrote: [ -> ]10/10 recommend heavily.
 
Although I respect that you're wanting to keep it primarily RS/RSPS related, I feel as if adding XSplit and MPGH would help out so much more, I have a LeakedSource account, but it's so annoying having to change tabs and copy and paste results, and also the Captcha issue with Leaked is a cunt.
(09-03-2016, 06:34 AM)

DontDoNowtK Wrote: [ -> ]Vouch.
https://gyazo.com/89e409c39e2b7399e97456b4b41d526b
Total Loot (other shit in bank) around 120-130m.
(09-03-2016, 08:50 PM)

Mqm Martin Wrote: [ -> ]I just got my first rs acc yesterday. Got about 15m! Haha. Definitely will be buying the 6 months for 50% off. Can I buy 2 of the 6 months, and will they stack up?
(09-04-2016, 12:28 AM)

Chacho Skuds Wrote: [ -> ]Got my first osrs account from the rslookup last night and got about 126m total loot! 

Huge vouch. Great product!