T&C:
Only Taking BTC or RSGP
It is a email login, no auth or pin ever been put on it. 
Upon buying this account you will get the account along with the orginal and only email thats ever been linked to this account.
Once you have the account you must change password of both email address and rs account, then you may do what ever you like with the email.
Will not be going first unless I deem trustworthy or we have dealt in past 
About the account:
1m+ in members items
No black marks (can provide proof if needed)
Has been hand trained by me not hacked, recovered or botted. (can provide proof of every level gained)
Only quest that I could see to improve the account would be DT, optional but has all the stat requirements 
Pics: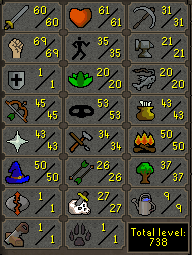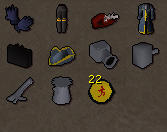 Any Questions or Offers please feel free to post below 
Quests:
Cook's Assistant
Demon Slayer
Ernest the Chicken
Goblin Diplomacy
The restless Ghost
Animal Magnetism
Big Chompy bird hunting
Death Plateau
The Digsite
Druidic Ritual
Dwarf Cannon
fgt Contest
Gertrudes Cat
The Golem
The Grand Tree
Lost City
Monkey Madness I
Priest in Peril
RFD (MITH GLOVES)
Shadow of the Storm
Temple of Ikov
The Tourist Trap
Tree Gnome Village
Troll Stronghold
Waterfall Quest
Alfred Grimhand's Barcrawl